---
2018-11-11
Homemade garlic pepper beef jerky
This recipe is very popular in my family. That's why I cook it often. By a lot of recipes for jerky is used soya sauce. I don't like this taste in jerky. This recipe is without soya sauce. I made jerky in the traditional way – with garlic and ground pepper. But...be creative...you can sprinkle jerky with ground chilli pepper or dried onion before drying. It is very important to use the amount of salt, what is written in this recipe. Otherwise the meat can go bad. Expiration date of jerky is about 3 – 5 months, when you will keep it in closable jar. Maybe longer...but we usually eat it during first month. This jerky is incredibly tasty.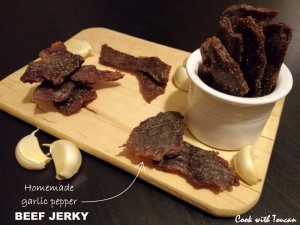 Ingredients for approx. 400 g (14 oz.):
beef (1000 g = 2,2 lb.)

I use round beef

wash well and dry

(with kitchen towel)

cut out unsightly and fat pieces

cut into big cubes (size approx. 5 cm = 2 in.)

now you have to weigh the meat to calculate amount of salt

salt (3 percent per 1 kilo/2,2 lb.)

I use 30 g of salt per one kilo (1000 g)

garlic (3 cloves per one kilo)

ground pepper and dried ground garlic (to taste)
Preparation:
salt well every cube (use all salt you prepared)
rub cubes of meat with garlic

put meat into pot

be sure you do not have many air bubbles among the cubes of meat (in perfect case it has to be without air bubbles)

!! don't pour water !!

cover with kitchen cling wrap (not pot, but meat – it has to be with minimal volume of air)
leave to marinate for approx. 5 – 7 days in fridge (Tips ↓1)
wash with water (wash away garlic and superfluous salt)

dry (with kitchen towel)

cut into slices (width approx. 5 mm = 0,2 in.)

!! you have to slice meat not against the grain, as you are used to slicing steaks, but along the grain of meat !! (Tips ↓2)
lay slices on tray, to taste sprinkle with ground pepper and dried ground garlic
dry for approx. 5 – 8 hours in dryer (it depends on width of meat slices) (Tips ↓3)

don't cover the dryer with lid

turn slices approx. 3 – 4x during drying
put finished jerky on a tray

leave to rest in room temperature for approx. 12 – 16 hours (the meat absorb air humidity and will be softer)
---
Tips:
I usually prepare the meat on Monday evening and I dry it on Saturday or on Sunday.

You can see in the picture on the left, how you have to cut meat for jerky. If you do it right, jerky won't be tough as a stone.

If you have wider slices, you will dry it longer. At the end of drying, slices have to be tough on touch, but they have to be little bit rubbery too. They mustn't be tough as a stone. Thinner slices will be dried after 5 hours, wider slices after 8 – 10 hours. Optimal drying temperature is approx. 50°C (122°F). You can see in the picture on the right, how I dry jerky.
Comments
Overview of comments