---
2018-01-24
Braised lamb with tomatoes and red wine
Lamb meat is not an ingredient that would be used every day in Czech. But it is incredibly tasty. To prove it to my family and my friends, I tried to come with a recipe that would be full of flavour and the lamb meat would be excellent in it. And it succeeded! At first they said, that they will not eat the lamb and had thousands various reasons for it. At last I cook this recipe several times a year. See for yourselves, the flavour of braised lamb with tomatoes, red wine and herbs will amaze you. Do not be afraid of this recipe! It is not as complicated as it seems.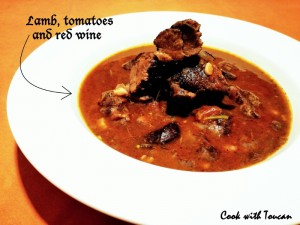 Ingredients for 4 to 6 servings:
lamb meat (700 g = 1,5 lb.) (Tips ↓1)

clean and cut majority of tallow off

cut into big cubes (size approx. 5 cm = 2 in.)

if you have slices from shop, let it so

lamb bones with meat (400 g = 0,9 lb.) (Tips ↓1)

you can use neck or any other smaller bones

clean and cut majority of tallow off

cut into smaller pieces (do not use one big bone)

ground pepper (to season the meat and bones)
oil (6 – 8 tbsp.) (to sauté meat and bones)
medium yellow onion (1 pc)

peel, cut into two halves

each half cut into two another halves, then into strips (short strips)

big red onion (1 pc)

peel, cut into cubes (the same size as yellow onion)

garlic (7 cloves)

peel and chop into coarse pieces

big very ripe tomatoes (5 pcs)

wash and peel the skin (Tips ↓2)

each tomato cut into two halves, cut out a stem

each half cut into wedges, remove the pulp into a bowl

cut wedges into cubes (size approx. 1 cm = 0,4 in.)

oil (5 tbsp.) (to sauté the onion)
salt (the season the vegetables)
red wine (700 ml = 1,2 pt. UK = 3 cups)

I use Cabernet Sauvignon or Merlot

rosemary (2 twigs)
Preparation:
at first prepare vegetables

in the pan heat oil (5 tbsp.) (Tips ↓3)
add onions and cook until glassy (Tips ↓4)
add chopped garlic
after both become golden add tomatoes (the tomatoes pulp not yet, its time will come)
in this while salt well all vegetables

when tomatoes have darker colour, remove pan aside from stove and take care the meat
take lamb meat and bones with meat, sprinkle with pepper only, but do not salt them (Tips ↓5)
heat oil (6 – 8 tbsp.) in big pot, and sauté meat and bones on both sides until brown (Tips ↓6)

but do not burn it!

remove sautéed meat and bones from pot into bowl (or on plate)
pour approx. 100 ml (= 0,2 pt. UK = 3/8 cups) of red wine into gravy in pot (Tips ↓7)

stir it well, to unstick gravy from the bottom of the pot

then move all meat and bones with meat to the pot, they have to be well arranged (between individual pieces should be as small as possible air pockets)

there is a juice in the bowl/plate, where were laid the meat and bones, pour it to the pot too

now pour the rest of red wine (approx. 600 ml = 1 pt. UK = 2 1/2 cups) over the meat (Tips ↓8)
at this moment put all vegetables (onions, garlic, tomatoes) and the pulp to pot too (Tips ↓9)
vegetables in pot arrange with wooden spoon, everything has to be immersed in red wine and tomatoes (Tips ↓10)
at last add rosemary twigs to the pot (Tips ↓11)
bring to boil

when it starts boiling, turn temperature down

stew covered for hour and half (you have to see bubbles, but little bit only) (Tips ↓12)

after this time remove meat and bones with meat from pot

cut the meat into small cubes (size approx. 2 or 3 cm = 0,8 or 1,2 in.)

take meat down from bones and cut into the same size

then put all meat back (now without bones) to the pot and stew for another 30 minutes
the moment it is done, remove rosemary sticks

taste it and add salt to your taste (Tips ↓13)
serve warm (especially if you used lamb meat) with fresh baguettes or mashed potatoes (Tips ↓14)
---
Tips:
If you do not have a lamb meat and bones with meat, it does not matter. You can use beef or pork meat and bones. The dish will be perfect too.

Peel tomatoes after blanching in hot water. With sharp knife make cut in each tomato (on the tip) and put them into the small pot. Pour hot water over and let stand aside for 5 – 7 minutes. Then peel skin off. If they are peeled badly, put them back into the hot water for a short while (1 – 2 minutes).

If you use larger onions, add more oil. Onions have to sauté in sufficient volume of oil, not to burn.

The onions are glassy, when they are not visibly raw, began to be transparent, but they are not becoming gold yet.

The vegetables are already salted in the pan, so add pepper on the meat and bones with meat only to does not final dish too much salted. At last by final seasoning, you can add more salt according your taste.

Sauté little by little, not everything at the same time.

Use to this dish only such red wine, that it tastes to you (not a second-rate wine, which nobody at home want to drink). If you do not do it, final dish will not taste to you. I prefer Cabernet Sauvignon or Merlot.

Yes, you read well. I used so much red wine. It is important, how you arrange meat and bones with meat in the pot. It is necessary to everything will be immersed in the red wine. I wrote 700 ml in the list of ingredients, but maybe you use 600 ml only, or on the other hand even 800 ml of red wine. Do not use red wine to your taste. You have to use as much wine as you need.

At first pour red wine, then put vegetables into pot. Or you will speculate, if you need too much wine.

No, it is not necessary to use any water! Combination of juice from meat and reduced red wine give to this dish perfect taste and water can destroy it.

You can substitute rosemary twigs with thyme twigs. Or you can use both herbs.

Do not shorten stewing time. If you will stew the dish too short, it will be smelt like alcohol and will not taste to you. And then, meat on the bones needs to be fully cooked and easy removed.

Yes, add only salt according your taste. It is not necessary to thicken this dish with flour, starch or with something another! Tomatoes will overcook in this dish (majority of them) and will thicken the dish.

If you do not want to serve this dish with mashed potatoes or baguettes, you can cook dish in one pot. Peel two medium potatoes and one medium carrot, and cut into cubes (cubes size approx. 2 cm = 0,8 in.). Add everything to pot in while you put cut meat and meat from bones to pot (then will follow 30 minutes stewing).
Comments
Overview of comments