---
2018-12-09
Pork burger marinated in red wine with cranberries
I operated a burger shop for a long time. When my customers were bored by standard offer of burgers (beef, pork, chicken and rabbit with three vegetables options), I started to create "limited version of burgers" – the offer ended, when all meat was sold. Burger from pork collar marinated in red wine with cranberries, vegetables and lemon dressing was one of the most popular burgers. Don't have a bad opinion about this burger. Burger doesn't have to be only from beef, but it has to contain first-rate meat and other ingredients. And it has to be created with love :) Taste it...this burger doesn't disappoint you...it is juicy and full of flavours!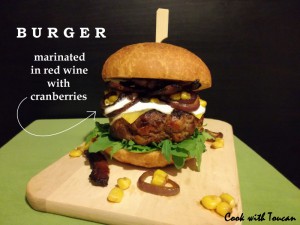 Ingredients for 4 burgers:
pork collar (175 g x 4 = 700 g = 1,54 lb.)

wash and cut out unsightly pieces

cut into slices (width approx. 2 cm = 0,8 in.)

salt (to taste)
ground pepper (to taste)
red wine (160 ml = 0,28 pt. UK = 2/3 cups)

I use Cabernet Sauvignon or Merlot

bay leaf (1 pc)
dried cranberries (2 – 3 tbsp.)
granulated sugar (1 tsp.)
oil (1 tbsp.)
soured cream (6 tbsp.)
grated peel from 1/2 lemon
lemon juice (1 – 2 tbsp., to taste)
unsalted butter (1 tbsp.)
oil (1/2 tbsp.)
medium red onion (2 pcs)

cut into rings (width approx. 0,5 cm = 0,2 in.)

corn (8 tbsp.)

salt and ground pepper (to taste)
burger buns (4 pcs)
rocket (arugula) salad (2 handfuls)
cheddar cheese (4 slices)
slices of bacon (to taste)
Preparation:
ONE DAY BEFORE BURGER GRILLING
salt

and

pepper

pork collar

(to taste)
prepare marinade

pour red wine into small pot, add bay leaf, chopped dried cranberries and sugar (1 tsp.)

when it starts boiling, turn temperature down and boil for approx. 20 to 25 minutes (reduce to 2/3 of the volume)

allow to cool

pour oil (1 tbsp.) and stir well
marinate meat in prepared marinade for at least one night (ideally in some plastic box with lid) (Tips ↓1)
ON THE DAY OF BURGER GRILLING
prepare dressing

put soured cream into small bowl, grated lemon peel and lemon juice

stir well and store in the fridge
melt butter (1 tbsp.) with oil (1/2 tbsp.) in the pan
sauté red onion
after onion become golden, add corn

sauté until everything is nice golden

salt and pepper to taste

move to bowl and allow to cool (don't put in the fridge)
sauté/grill/roast slices of bacon

move on a plate (don't put in the fridge)
remove marinated meat from fridge

cut out big lean pieces from pork collar (approx. 1/4 of total weight of meat) and cut into small cubes (approx. 0,5 cm = 0,2 in.)

mince the rest of meat

stir (with hand) cubes of meat, minced meat and the cranberries that remained in the marinade

divide into 4 piles

create burger patty from every pile and create a dimple in every patty with thumb (Tips ↓2)
grill burger patties on a grill (or use a pan)

cut burger buns horizontal in half (recipe for burger buns you can find here:

link Homemade burger buns with sesame

)

when burger patties will almost done, put both halves of buns on grill
now finish burger: bottom of burger bun, 1/2 handful of rocket (arugula) salad, grilled burger patty, slice of cheddar cheese, lemon dressing (1 1/2 tbsp.), sautéed red onion with corn, sautéed slices of bacon and upper part of burger bun
---
Tips:
Marinate the meat at least for one night (if you have quality meat from butcher). If you have meat from supermarket, marinate the meat at least for 3 – 4 nights.

Create a dimple, not a hole in patties. If you do it, the patties stay flat during grilling (otherwise they will be bulged).
Comments
Overview of comments