---
2018-10-18
Toasted sandwich with ham, corn, rocket and cheese
Very fast recipe! This dish isn't the top of gastronomy, but it is tasty, fast and simple. This sandwich is suitable for breakfast, snack or light dinner. Also...it depends on, how many sandwiches you eat. And what about me? Really too many. Because I like them.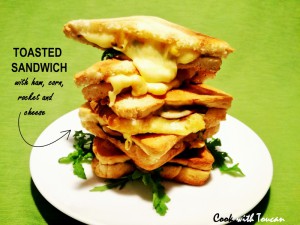 Ingredients for 2 servings (4 sandwiches):
toast bread (8 slices)
ham (4 – 8 slices, according to taste)
corn (4 heaped tbsp.)
rocket (arugula) salad (1 handful)
cheese Gouda (6 slices)

weight of each approx. 25 g = 0,9 oz.

you can use Cheddar cheese

salt (1 pinch into each sandwich)
Preparation:
lay 4 slices of bread on the kitchen unit

put on each slice:

ham (1 – 2 slices, according your taste)
corn (1 heaped tbsp.)
salt (1 pinch)
rocket salad (1/4 of handful) (Tips ↓1)
cheese Gouda (1 and half slices)

cover each prepared sandwich with another bread slice
roast in sandwich maker or in contact grill (Tips ↓2)
you can serve with some garlic dip or with a well-tasting ketchup
---
Tips:
You can chop rocket salad. But it is not necessary. Be careful to none of rocket leaves pokes out of sandwich, or the leaves fade during roasting.

Don't watch blinking light on sandwich maker (it shows recommended time of roasting). Roast until all sandwiches are nice golden brown (particularly if you used frozen corn).
Comments
Overview of comments