---
2018-09-02
Carp roasted in white wine
Fish and white wine, it is the inseparable combination – although, the traditional Czech recipe is carp fried in bread crumbs. I don't remember that my parents or grandmas cooked it sometimes differently. And when I was sick of fried carp, it was the right time to come with recipe, where everything is different. Simple, fresh and juicy dish...with touch of sourness. Who could want more? The carp may be substituted for any other fish (e. g. salmon, trout or mackerel). White wine can be paired with any fish.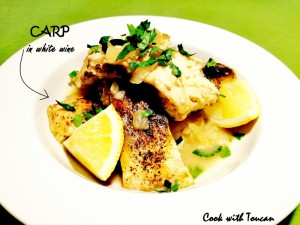 Ingredients for 6 to 8 servings:
whole carp (the weight of live fish is approx. 3,5 kg (= 7,7 lb.)

remove scales and gut

cut into horseshoes (width approx. 5 cm = 2 in.) (Tips ↓1)

you will have approx. 4 to 5 horseshoes + tail part

each horseshoe cut into halves (along the spine)

you will have approx. 8 to 10 slices

oil (2 tbsp.)
medium yellow onion (2 pcs)

peel, cut into coarse pieces

garlic (4 – 5 cloves)

peel, cut into coarse pieces

salt and ground pepper
white wine (400 ml = 0,7 pt. UK = 1 3/4 cups)
unsalted butter (2 tbsp.)
fresh parsley
Preparation:
take roasting pan (size approx. 33 x 30 cm = 13 x 12 in.)

brush the roasting pan with oil (2 tbsp.)
put all onion and garlic into, lay it out evenly
salt and pepper the carp slices (both sides), and lay it into roasting pan with the skin up
pour white wine (into onion with garlic only, otherwise you wash away salt and pepper from fish)
put unsalted butter (2 tbsp.) on carp slices (little bit on each)
roast in preheated oven at 180°C (356 °F) for approx. 45 – 55 minutes

the carp is finished, when the skin is nice roasted and there is not too much white wine in the pan as at the beginning

onion with garlic have to stay wet (Tips ↓2)
serve with chopped fresh parsley and fresh baguette

you can add a piece of lemon
---
Tips:
I don't make fillets from carp, and I don't remove skin. You can make fillets. But it is important to roast carp with skin! First, the skin holds the meat together and second, the skin gives perfect taste to meat. I personally don't eat the skin, but it is better to remove it before eating.

If the skin is not nice roasted, but the onion doesn't swim in sufficient volume of white wine, it is necessary to pour little bit water. If you don't do it, onion with garlic will be burned (and you won't have any juice to the final dish). Don't pour the water at the beginning of roasting. It is possible you won't have to do it. First, it is important to reduce white wine by half. And if you won't roast the carp at high temperature, you probably won't need any water.
Comments
Overview of comments