---
2019-03-10
Spaghetti with cockles and shrimps
I cooked this dish first time, when I was on holiday in Croatia. I have never taste the cockles before, because they are too expensive in Czech. The taste amazed me – the cockles are meatier than mussels. The combination with spaghetti and tomatoes was absolutely perfect! This photo brings me memories of first holiday with my fiancé and of the amazing dish. When we will enjoy our next holiday by the sea, I will definitely cook it again :)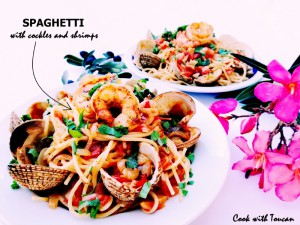 Ingredients for 2 servings:
big shrimp (4 pcs = approx. 400 g = 14 oz.)

not precooked, not peeled

break prawn's head and peel body

cut a little the back with knife and remove intestine (you can flush out a shrimp in the water in this moment)

oil (3 tbsp.)
salt and ground pepper (to taste)
oil (5 tbsp.)
small white onion (4 pcs)

peel, cut into coarse pieces

garlic (3 cloves)

peel, chop into coarse pieces

medium tomato (3 pcs)

each tomato cut into halves, cut out a stem

each half cut into wedges, then cut it into big cubes

salt and ground pepper (to taste)
fresh parsley (4 heaping tbsp.)
fresh cockle (8 pcs = approx. 400 g = 14 oz.)

wash very well in the water

spaghetti for 2 optimal servings (Tips ↓1)
Preparation:
salt and pepper the shrimps
heat oil (3 tbsp.) in the pan (diameter approx. 23 cm = 9 in.)

sauté all shrimps (on each side approx. 1,5 minutes)

lay sautéed shrimps on the plate (cover with lid)
pour more oil (5 tbsp.) into the same pan
add onion and sauté
when you see first golden pieces, add garlic
when you see first golden pieces of garlic, add tomatoes
salt well and pepper to taste (Tips ↓2)
add 3 tbsp. of chopped fresh parsley (set aside 1 tbsp. for garnishing of finished dish)
when the tomatoes will be softer, add cockles (they have to be immersed in the vegetables at least to the middle of their shell)

turn temperature down and cover with lid

when will be opened at least 3 cockles, time 12 minutes (Tips ↓3)

sometimes check (all cockles have to be opened in the end)
now boil spaghetti according to instructions on package

don't forget, that the water has to be enough salted

when the spaghetti will be boiled, pour some warm water from pot to small cup (approx. 100 ml = 3/8 cups)

then strain boiled spaghetti (please, don't rinse with cold water)
move finished cockles on the plate to shrimps

add all vegetables into pot and stir well

if the spaghetti seems to be dry, pour water from cup (only by the tablespoons, 1 - 5 tbsp.)

taste, add salt to taste (but it probably won't be necessary)
serve spaghetti with vegetables on a plate

add cockles and shrimps

garnish with chopped fresh parsley

you can sprinkle with chopped fresh chilli pepper

serve warm
---
Tips:
The hole in scoop of spaghetti gives the optimal volume of spaghetti for one serving.

This stewed vegetables have to be little bit more salted. You will stir them together with spaghetti in the end.

When cockles are open only a little, you can help them with fork. Then they open wide.
Comments
Overview of comments