---
2018-12-08
Homemade burger buns with sesame
For a long time I thought about, what to write about this recipe. Whether about, that it is perfect – and it is! Or about, how it was created. I baked burger buns approximately 20x, before I came to this recipe. Many times everything was wrong and I thought that buns will bring me to madness. E.g. buns were too small, too flattened, they didn't rise, weren't beautiful or weren't tasty. After every new attempt I wrote new weights of ingredients and new tip, what I have to/don't have to do next time. After almost 2 months, I titled about 20th attempt: "!!! Last try on burger buns !!!". And it worked...the preparing lasted not long, buns had to rise only one time, were beautifully fluffy, crunchy and soft. Delicious!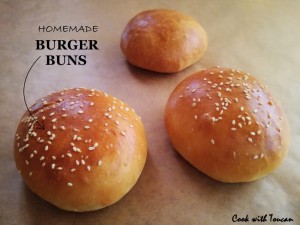 Ingredients for 4 buns:
water (100 ml = 0,2 pt. UK = 3/8 cups)
sugar (1 tsp.)
dried instant yeast Saf-Instant (1/2 tbsp.)
soft white flour to leaven making (1 tbsp.)
soft white flour (250 g = 8,8 oz. = 2 ½ cups) (Tips ↓1)

any flour, which is from wheat, is finely ground and is white (e.g. all-purpose flour, pastry flour or soft wheat flour)

whole egg (1 pc)
salt (1 tsp.)
oil (3 tbsp.)
soft white flour to sprinkling of pastry board and into pastry (1 – 2 tbsp.)
whole egg to brushing of buns (1 pc)

crack into bowl and whisk

sesame to sprinkling of bun (to taste)
Preparation:
at first make leaven

pour water (100 ml) into small pot and heat to 35°C (Tips ↓2)
add sugar (1 tsp.), dried instant yeast Saf-Instant (1/2 tbsp.) and soft white flour (1 tbsp.)

stir well with manual beater and cover with kitchen cling wrap

pour warm water into bowl (approx. 3 cm = 1,2 in.) and put pot with leaven (you keep the leaven warm)

wait 15 to 20 minutes (leaven should double or triple its volume) (Tips ↓3)
take big bowl

add soft white flour (250 g or 8,8 oz.), cracked egg, oil (3 tbsp.) and salt (1 tsp.)

at last add prepared leaven

stir well with wooden spoon
put flour (1 tbsp.) on pastry board, move pastry
add more flour (1 tbsp.) if necessary, pastry mustn't stick to your hands, but it mustn't be too solid
you have to knead the pastry at least 5 – 10 minutes! (Tips ↓4)

then make ball from pastry, cover with clean dish towel and let it rest for approx. 15 minutes

knead again (don't add flour anymore)

make longer cylinder and cut into 4 equal pieces
make ball from every piece

put it on pastry board (imagine, that you give plum into ball and try to wrap it in the pastry) (Tips ↓5 – Picture 1)
make hole in the ball with thumb and start to pull at pastry sides upwards to the tip (all the time imagine you wrap the plum) (Tips ↓5 – Picture 2)
then press tip (Tips ↓5 – Picture 3)
turn the ball, surface of ball will be beautifully smooth (be patient, I wasn't so successful at first too) (Tips ↓5 – Picture 4)
from every bun make beautiful ball and move to baking pan (part with pressed tip has to be down) (Tips ↓6)

cover with dish towel and let it rise for approx. 2 hours (buns should double or triple their volume)

brush with whisked egg

(

Tips ↓7) and sprinkle with sesame
bake in preheated oven at 210°C (410°F) for 10 minutes (Tips ↓8)

check them

bake for another 2 – 4 minutes
move buns from pan on kitchen towel immediately after baking

cover with another kitchen towel and let the buns cool down (Tips ↓9)
cold buns store in plastic bag, use at least next day

cut on two horizontal halves and roast shortly before burger making
---
Tips:
Please, use grams or ounces. No cups! In this recipe is really necessary to be accurate.

Water shouldn't be warmer than 40°C. Or it can stop working of yeast.

If leaven doesn't double its volume (after 20 minutes), but you see bubbles, wait. If leaven doesn't double its volume, and you don't see bubbles, make new leaven (you have bad yeast).

Tip, how you find out right consistency of pastry -> make slightly high pillar from pastry (like if you make vase from clay on potter's wheel, height approx. 15 cm), then:

if pastry fall down fast on pastry board, it is too thin and you have to add more flour (or finished buns will be too flattened)

if pastry hold form of cylinder and doesn't fall down, is too thick and you have to add more water with tea spoon (or finished buns won't rise and buns will be too thick)

if pastry fall down slowly on pastry board, has right consistency

You can see in the pictures, how to make burger buns (below Tips

↓)

.

The pastry descents spontaneously and makes typical burger buns looks. Leave at least 10 cm (4 in.) between balls.

Egg must have room temperature!

Don't open the oven for 10 minutes. The buns can shrink.

If you do it, the buns will have beautifully crunchy crust and they will be soft (let them so for approx. 20 minutes).
Comments
Overview of comments