---
2018-10-28
Roasted potatoes with onion, corn and garlic
I cook this side dish often, because it is very popular in my family. I serve it to roasted chicken, chicken steaks, pork steaks...Sometimes I sprinkle potatoes with rosemary or thyme before baking. Or I add whole twigs of these herbs (then you have to remove them before serving). I sometimes sprinkle with chopped fresh parsley or chives during serving. It is very simple recipe. Your whole family will love it.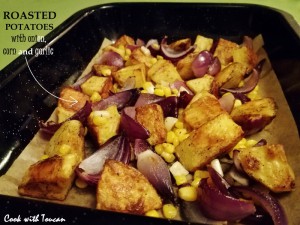 Ingredients for 2 servings:
oil (1 – 2 tbsp.)
medium potato (4 pcs) (Tips ↓1)

peel, cut into cubes (size approx. 2 to 3 cm = 0,8 to 1,2 in.)

salt (to taste)
ground pepper (to taste)
medium red onion (2 pcs)

peel, cut into two halves

each half cut into 3 wedges

corn (to taste)

I used frozen (approx. 4 heaped tbsp.)

garlic (4 cloves)

peel, chop into coarse pieces
Preparation:
lay baking paper in the roasting pan (Tips ↓2)
brush with oil (1 – 2 tbsp.)
put cubes of potatoes
sprinkle with salt and ground pepper (Tips ↓3)

roast in preheated oven at 220°C (428°F)
after 20 minutes add red onion into roasting pan (potatoes start to be golden, but they are still little bit raw)
after another 10 minutes add corn
after another 5 minutes add garlic

roast for approx. 4 to 5 minutes (be careful, garlic mustn't be burned)
you can serve with any meat (roasted, grilled, cooked) or with fish
---
Tips:
Be careful, the variety of potatoes is very important. Potatoes mustn't be soft. They have to be hard and not too watery. Otherwise they will be burned and won't be tasty.

I made photo of my roasted potatoes in small roasting pan. But for roasting it is necessary to use big roasting pan.

Now sprinkle with herbs, if you want (thyme, rosemary, oregano).
Comments
Overview of comments