---
2018-11-21
Pork ribs marinated in dark beer with honey and chilli
My family likes this recipe, because in this way cooked ribs are very juicy. But it is important to eat them immediately after cooking until warm. If you don't like spicy dishes, the chilli sauce can be substituted for tomato sauce. You can serve this dish with barbecue sauce, extra chilli sauce or with first-rate ketchup on a plate.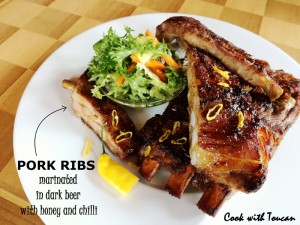 Ingredients for approx. 6 – 8 servings:
pork ribs (approx. 3 kg = 6,6 lb.)

wash, cut into smaller pieces

every part should contain approx. 3 rib bones

big bay leaves (4 pcs)
all spice (8 – 10 berries, according to size)
black pepper (10 – 12 balls, according to size)
hot water (volume as necessary)
dark beer (300 ml = 0,5 pt. UK = 1 2/8 cups)
garlic (6 – 8 cloves, I use 8 cloves)

peel, press through a garlic press

honey (3 – 5 tbsp., I use 3 tbsp.)
chilli sauce (2 tbsp., I use Sriracha hot chilli sauce)
salt (2 – 3 tsp. + according to taste)
oil (4 tbsp.)
Preparation:
put pork ribs into big pot
add bay leaves, all spice berries and pepper balls
pour hot water! (Tips ↓1)

cook until soft for approx. 1 hour (the meat has to be soft, but it has still to keep on bones)
now prepare marinade

stir dark beer, pressed garlic, honey, chilli sauce, salt (Tips ↓2)

and oil (4 tbsp.) with beater
move boiled meat into big bowl and let it cool down

pour marinade into bowl (marinade has to be poured over every part of meat)

put into fridge and let it marinate (at least one hour)

turn the meat during marinating
move pork ribs into roasting pan (the part with wider layer of meat has to be up)

roast in preheated oven at 220 – 230°C (= 428 – 446°F) for 30 to 45 minutes

brush with marinade (which left in the bowl) during roasting (3x – 4x)

the dish is finished, when pork ribs are nice roasted
serve with fresh bread, some sauces (barbecue, ketchup or chilli sauce) and vegetables salad (Tips ↓3)
---
Tips:
For perfect meat use hot water (because hot water locks juices inside of meat).

If I have bigger meat than 3 kg (6,6 lb.), I use 3 tsp. Then it is necessary to taste. Add salt according to your taste.

I used salad mix ice salad, frisée salad, escarole salad, carrot and white cabbage. Prepare dressing, stir:
oil (4 tbsp.)

white vinegar (2 tbsp.)

icing sugar (2 pinches)

ground black pepper (1 pinch)
Pour dressing into salad and stir well. But do this before serving, otherwise the salad will be wilted and won't be so crunchy and fluffy.
Comments
Overview of comments