---
2018-07-22
Baked potatoes with chicken meat and cheese
This dish I cook when I don't have much time. I put all ingredients into roasting pan and bake, how simple! In this recipe I used potatoes, boiled chicken meat, tomatoes and red onions. But I often add the corn too. If you leave out the chicken meat in this recipe, you can use this dish as side dish to main course (e. g. to roasted chicken or steaks).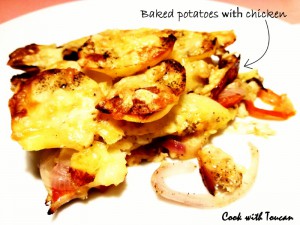 Ingredients for 4 servings:
medium potato (10 – 12 pcs)

peel, cut into thick slices (width approx. 3 mm = 0,12 in.)

big tomato (2 pcs)

wash, cut into thick slices (width approx. 3 mm = 0,12 in.)

medium red onion (2 pcs)

peel, cut into thick slices (width approx. 3 mm = 0,12 in.)

non-aromatic cheese (200 g = 7 oz.)

grate into coarse pieces

I used Gouda, but you can use any other cheese you like

(Tips ↓1)

boiled chicken leg (3 pcs) (Tips ↓2) (Tips ↓3)

wash well raw legs, each leg cut into 4 smaller pieces

do not remove bones!

boil in water until soft (no salt, no pepper), cook approx. one hour

take meat down from bones

cut into smaller pieces

oil (2 – 3 tbsp.)
salt and ground pepper
Preparation:
I use round roasting pan (diameter 32 cm = 12,6 in., height 5 cm = 2 in.) or rectangular (33 x 24 cm = 13 x 9,5 in, height 5 cm = 2 in.) roasting pan

divide all ingredients into two halves (but don't mix ingredients together)
brush the roasting pan with oil (2 – 3 tbsp.)
lay the first half of potatoes on bottom of roasting pan (Tips ↓4)
every layer of ingredients you have to sprinkle with salt and pepper (if you will use some salted cheese, e. g. Blue cheese or Balkan, use salt carefully)
now continue with laying:

boiled meat (first half)
red onion (first half)
tomatoes (first half)

boiled meat (second half)

red onion (second half)

grated cheese (first half)

tomatoes (second half)

at last put potatoes on top (all vegetables and meat have to be covered with potatoes)
bake in preheated oven at 200°C (392 °F)

cook until all potatoes are nice baked (don't hurry and wait)

then remove roasting pan from stove and sprinkle with second half of grated cheese

put back into oven and bake for another 5 – 10 minutes
---
Tips:
Sometimes I use 2 types of cheeses – Blue cheese and Gouda. I use Blue cheese into lower layer and I sprinkle whole dish with Gouda before the final baking.

I wrote 3 pcs of chicken legs. But you can do it like me. I use 4 chicken legs. Why? You can have perfect baked potatoes, but very strong chicken soup too. Take 4 chicken legs, put into pot and pour cold water (2,5 l = 4,4 pt UK = 10 1/2 cups). Add no salt and pepper. Boil. Then take meat down from bones. Meat from 3 legs you can use to this recipe. Meat from one leg you can put back to chicken broth. Also boil vegetables in broth, add spices, put the meat into and you have perfect chicken soup (recipes for soups you can find here:

link Soup

).

If you do not want to boil chicken legs, you can use raw chicken breasts (2 pcs). Clean them and cut into cubes (size approx. 1 cm = 0,4 in.). In the pan heat oil (2 tbsp.) and sauté meat. Do not salt and pepper. Then move them on a plate.

You must have enough potatoes, which must overlap. Otherwise you will have problems with serving the dish.
Comments
Overview of comments