---
2018-01-24
Penne with chicken meat and spinach
I like pasta. It has to be easy to prepare...but light in taste too. Maybe, it is my own conviction, but I try to keep it by my recipes. Also I do not prefer pasta that is over tasted with thousands spices. And this recipe follows everything I wrote, at least for me. Pasta, boiled chicken meat, spinach and some trifles. You need nothing more.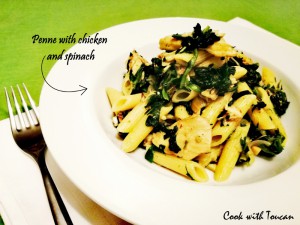 Ingredients for 4 servings:
boiled chicken leg (3 pcs) (Tips ↓1) (Tips ↓2)

wash well raw legs, each leg cut into 4 smaller pieces

do not remove bones!

boil in water until soft (no salt, no pepper), approx. one hour

take meat down from bones

cut into smaller pieces

oil (4 – 5 tbsp.)
big yellow onion (1 pc)

peel, cut into two halves

each half into two another halves, then into strips (short strips)

garlic (5 cloves)
spinach (400 g = 0,9 lb.)

can be frozen

has to be leaf, not chopped

salt and pepper (to your taste)
unsalted butter (2 tbsp.)
pasta penne (500 g = 1,1 lb.)
salt (as necessary) (to boil pasta)
Preparation:
in the pan heat oil (4 – 5 tbsp.) and sauté onion with garlic
the moment you will see first pieces are golden, add spinach

turn temperature down and wait, than spinach fades (if you used fresh) or than defrosts and warms (if you used frozen)

add chicken meat

stir everything well

salt and pepper according to your taste (Tips ↓3)
at last add butter (2 tbsp.)

remove pan aside from stove and go boil pasta
I used pasta penne in this recipe
boil according to instructions on package (Tips ↓4)
add salt to water (Tips ↓5)
strain boiled pasta, pour off approx. 100 ml of water (= 0,15 pt. UK = 3/8 cups) into a cup (Tips ↓6)
put back hot pasta into pot (do not stand pot on hot stove)

add vegetables and meat from pan, stir well

taste, add salt and pepper to your taste
if pasta seems to be dry, pour little bit water from cup (add it with spoon)

pour out rest of water

finished dish you can sprinkle with grated parmesan cheese
---
Tips:
I wrote 3 pcs of chicken legs. But you can do it like me. I use 4 chicken legs. Why? You can have perfect pasta, but very strong chicken soup too. Take 4 chicken legs, put into pot and pour cold water (2,5 l = 4,4 pt UK = 10 1/2 cups). Add no salt and pepper. Boil. Then take meat down from bones. Meat from 3 legs you can use to this recipe. Meat from one leg you can put back to chicken broth. Also boil vegetables in broth, add spices, put the meat into and you have perfect chicken soup (recipes for soups you can find here:

link Soup

).

If you do not want to boil chicken legs, you can use raw chicken breasts (2 pcs). Clean them and cut into cubes (size approx. 1 cm = 0,4 in.). In the pan heat oil (2 tbsp.) and sauté meat. Do not salt and pepper. Then move them on a plate.

Everything in the pan should be little bit more salted. It is because you will add pasta at last.

Maybe it is commonplace. But – if there is written 9 to 10 minutes on package, boil pasta 9 minutes. When you want to have softer pasta, boil it only one minute more. There is nothing worse than overcooked pasta.

Add only salt, no oil to water. I put 1 tsp. of salt for 1 litre of water.

Do not rinse pasta with cold water!
Comments
Overview of comments