---
2018-01-23
Salad with sautéed chicken breasts and honey dressing
This recipe was created, when my boyfriend told me, that he would like to eat something healthier. At first, the idea of salads only was not too much tempting for me. Me, the consumer of meat in large, I will not eat the meal, where the main ingredient is a salad. After all, the taste of dressing with sour cream and honey impressed me so much, that this meal became a regular part of our diet. Basically I leave this meal the same, but I often change composition of the salads leaves.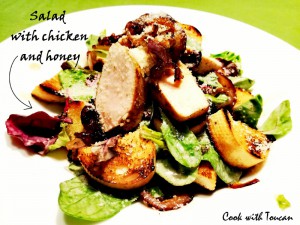 Ingredients for 2 servings:
chicken breasts (2 pcs = approx. 350 g = 0,8 lb.)

wash them well and cut off the small pieces

(Tips ↓1

)

salt and ground pepper (to season the meat)
oil (1 tbsp.) (to sauté the meat)
salad (125 g = 4,4 oz.)

mix of salads – I use often salad mix insalatina, baby spinach and mangold

oil (2 tbsp.) (to salad)
honey (2 tsp.)
lemon juice (1 – 2 tbsp.) (according to taste)
sour cream (2 tbsp.)
salt and ground pepper (a pinch of each) (to salad)
baguettes (80 g = 3 oz.)

cut into slices (width approx. 1 cm = 0,4 in.)

cut each slice into half

unsalted butter (1 tbsp.) (for croutons)
medium red onion (1 pc)

peel, cut into two halves

cut into strips

unsalted butter (1 tbsp.) (to sauté the onion)
parmesan cheese (2 tbsp.)
Preparation:
at first prepare the salad dressing

stir honey, lemon juice, sour cream, pinch of salt and pinch of pepper in a small bowl (Tips ↓2)

ideally use a small beater, after a while, everything will come together
then prepare the croutons

melt butter (1 tbsp.) in the pan and sauté all sliced baguettes to be crunchy

when it is done, move the croutons from the pan to a small bowl or small plate
now prepare chicken breasts
salt and pepper the meat (big parts and small parts too)
heat oil (2 tbsp.) in the pan and sauté all meat (Tips ↓3)
be careful, the oil must not be too hot (Tips ↓4)

the two small pieces of meat will be finished soon, move them to small plate and cover with foil (to stay warm, use dish cover in case of need), then add to them the two big parts of meat too, when they will be sautéed
as soon as all meat is sautéed, add butter (1 tbsp.) into gravy, which is left in the pan after the meat, and sauté red onion too

when the onion is pretty sautéed, move it to a small plate (do not move the excess fat too, leave it in the pan)
at this time you done practically all sup-parts: you have sautéed meat, croutons and onion

now prepare the salad

it does not matter, which combinations of salad leaves you use, you do not have to follow the same composition, that is in the recipe, it depends on, what kind of salad you like or what kinds you are able to buy in a shop

move the salad to big bowl and stir it with oil (2 tbsp.)

then pour prepared dressing into salad and stir it well

now serve the dish as soon as possible, otherwise the salad will be wilted (Tips ↓5)
take away foil from the breasts and cut them into slices

all prepared ingredients place on the plate, e. g. salad (half), croutons (half), salad (the second half), croutons (the second half), sautéed onion (without fat, half), slices of chicken breasts and sautéed onion (the second half)

at last sprinkle whole dish with grated parmesan cheese
---
Tips:
There is one small piece of meat that hangs on chicken breast. Cut it off. This piece does not have to be here, it depends on seller, whether he leaves it here or not.

You can use a yoghurt instead of sour cream, if you have it at home. But I prefer the sour cream. It has stronger flavour, so it is better for me.

If you want the chicken breast to stay juicy, take baking paper, make it wet and cover the meat during sautéing. After you turn over the breasts, repeat.

Do not heat the oil too much, the breasts will be burned on the surface, but will be raw inside. If you not sure, whether they are done, make a cut in their highest point (it is the opposite site, than the tip). Make the cut minimal 2 cm (0,8 in.) deep. If they are not raw in this point, they are really done.

Stir the dressing with the salad at last, before the serving, if the salad will be wilted and won't be so crunchy and fluffy.
Comments
Overview of comments