---
2019-11-10
Spaghetti with tomatoes, arugula salad and olives
I feel like cooking something simple and light, what doesn't last much time. And this dish belongs to these meals. Me and my husband love pasta. Spaghetti with cherry tomatoes, black olives and Parmesan cheese belongs to our favourite dishes. This meal reminds us summer and well-being, so we cook it during whole year :)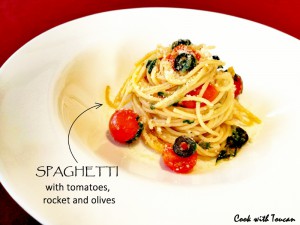 Ingredients for 2 servings:
spaghetti for 2 optimal servings (Tips ↓1)
oil (4 tbsp.)
garlic (3 – 4 cloves)

peel, chop into coarse pieces

cherry tomatoes (250 g = 8,82 oz.)

half of tomatoes cut into halves

half of tomatoes leave whole

salt and ground pepper
rocket salad/arugula (2 handfuls)
pitted black olives (12 – 14 pcs)
grated Parmesan cheese (6 heaped tsp. + 2 tsp.)
Preparation:
heat oil (4 tbsp.) in the pan and sauté garlic (during cooking this dish is really necessary to use good non-stic pan)
when you see first golden pieces, add all cherry tomatoes
add a little salt and pepper

if half of garlic become golden and tomatoes are softer, remove pan from stove
now boil spaghetti according to instructions on package

don't forget, that the water has to be enough salted

when spaghetti are boiled, pour some warm water from pot to small cup (approx. 100 ml= 3/8 cups)

then strain boiled spaghetti (please, don't rinse them with water)
add arugula salad and black olives to the pan

stir well

then add strained spaghetti and stir well again
if spaghetti seems to be dry, pour water from cup (only by tablespoons, 1 – 5 tbsp.)
if spaghetti seems to be enough wet, add Parmesan cheese (6 heaped tsp.)

stir well

add salt and pepper to taste

serve warm

garnish with another extra grated Parmesan cheese (2 tsp.)
---
Tips:
The hole in scoop of spaghetti gives the optimal volume of spaghetti for one serving.
Comments
Overview of comments