---
2018-01-24
Chicken soup with corn and cream
I belong to group of people who enjoy eating corn. As far as I am concerned I can eat it practically in every dish. Also I cook this soup very often. It is not a classical clear broth, because there is poured a cream at last. At first I was afraid, how it will taste (nobody at home cooked broth with cream), but I know now, there was nothing to worry about. Try this soup. You will see that whole family will love it.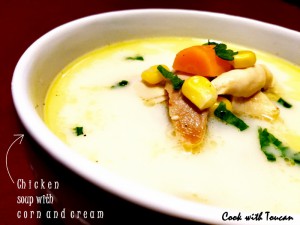 Ingredients for 6 to 8 servings:
chicken leg (1 pc = approx. 250 g = 0,55 lb.)

wash well, cut into 4 smaller pieces

do not remove bone!

salt and ground pepper (according to taste)
bay leaf (2 pcs)
all spice (3 berries)
cold water (2,5 l = 4,4 pt UK = 10 1/2 cups)

only 2 l (= 3,5 pt. UK = 8 1/2 cups) for thicker soup

medium carrot (1 pc)

peel, cut into cubes (size approx. 1 to 2 cm = 0,4 to 0,8 in.)

small yellow onion (1 pc)
corn (2 – 3 handfuls)

according your taste, you can use more or less

can be frozen

cream (200 ml = 0,35 pt. UK = 3/4 cups)
Preparation:
at first prepare cream, you will need cream at room temperature (Tips ↓1)
take big pot and add chicken leg, salt, ground pepper, bay leaf (2 pcs) and all spice (3 berries)
pour cold water (Tips ↓2)

when it starts boiling, turn temperature down and boil covered for 1 to 1,5 hours (the longer the better)

and now one important information, when it starts boiling, remove foam from surface with spoon (it happens at start of boiling only)

the broth will be cleaner
after hour and half remove meat from pot

add carrot and onion into pot, boil into soft (it takes approx. 20 minutes)
after 10 minutes boiling add corn (Tips ↓3)
when chicken is cold, remove meat and cut it into small pieces

return meat back to soup

when carrot is soft, pour cream into pot

boil for another 5 minutes

remove bay leaves and all spice berries from soup

add salt according to your taste

decorate soup with fresh chopped parsley
---
Tips:
Do not forget it. You must not pour cold cream into soup, because the soup can curdle.

In principle, for perfect broth, use cold water with meat (because juices from meat are released out). For perfect meat (you need it to another recipe and broth is secondary dish), use hot water (because hot water locks juices inside of meat).

You can add spinach (2 – 3 handfuls) to this soup at the same time as corn. Then do not decorate soup with fresh chopped parsley.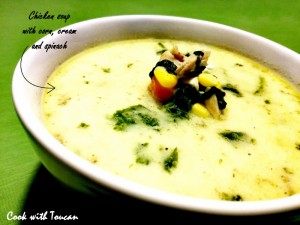 Comments
Overview of comments