---
2018-01-24
Pea soup with cream and croutons
Pea soup has been always cooked from dried peas at my home, sometimes were added lentils. And I tell you, I never had a liking for this soup. But one time my mom came with another recipe and made it from green pea balls. I was totally enthused from this soup. Since then, I changed several times this soup (I add cream, press all peas through strainer), but its taste still entertains me. Good tasting pea soup is ideal meal for cold day to warm up.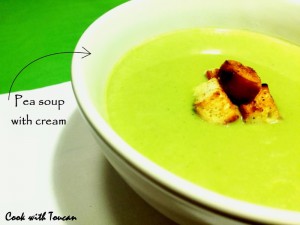 Ingredients for 6 to 8 servings:
peas (1 kg = 2,2 lb.)
white baguette (80 g = 3 oz.)

I used 2 small baguettes

cut into cubes (size approx. 1 cm = 0,4 in.)

unsalted butter (2 tbsp.)
salt (1 tsp.)
cold water (1,2 l = 2 pt. UK = 5 cups)
oil (2 tbsp.)
medium yellow onion (1 pc)
garlic (3 – 4 cloves)
salt and ground pepper (according to taste)
cream (200 ml = 0,35 pt. UK = 3/4 cups)
Preparation:
at first prepare cream, you will need cream at room temperature (Tips ↓1)
now prepare croutons

in the pan melt butter (2 tbsp.) and sauté baguettes

they have to be nice golden brown

finished croutons move to a small bowl (Tips ↓2)
put peas into big pot, add salt (1 tsp.) and pour water (Tips ↓3)

when it starts boiling, time 2 minutes

strain peas with water through strainer to a small pot

do not pour the water out!

rinse peas in strainer with cold water (it has to be practically ice cold)

move peas from strainer into small pot with water and boil into soft (Tips ↓4)
when it is done, remove pot aside from stove and mix well with stick blender (leave peas with water in small pot)

take big pot

heat oil (2 tbsp.) in this pot and sauté onion with garlic until nice golden

move onion and garlic into small pot and mix it well again
lay metal strainer on big pot

with wooden or regular spoon press peas, onion and garlic through strainer into big pot until only skins are left (Tips ↓5)

those can be discard
now you have whole soup in the big pot

add salt, ground pepper (according to your taste) and cream

boil soup at medium temperature, stir constantly (or it burns on bottom)

when it starts boiling, remove pot aside from stove and mix everything with stick blender again

now taste, if the soup is enough salted

serve warm, sprinkle with prepared croutons (Tips ↓6)
if you are in hurry, you can cook this soup a little differently (Tips ↓7)
---
Tips:
Do not forget it. You must not pour cold cream into soup, because the soup can curdle.

You can sprinkle croutons with grated parmesan cheese.

Use exactly the volume of water, as is written in list of ingredients (1,2 l = 2 pt. UK = 5 cups). It is time-tested. If you use less water, you will cook mash. If you use more water, final soup will be dull and needlessly too much sparse.

Why should you do this process? When you will boil peas, then sharply cool down and boil again, peas do not loose colour and stay still perfectly brightly green.

I confess, pressing peas through strainer is not easy work. It is toilsome and it takes 15 to 20 minutes. But it is worth it! So you can look sour and be without smile on your lips (my own experience), but do it.

You can decorate soup with sour cream (1 tbsp.) too.

When I don't have much time, I skip phase with pressing through strainer. I mix everything well with stick blender only. But if you have time, do pressing. The soup will be more fine and fluffy.
Comments
Overview of comments