---
2018-11-10
Blueberries with whipped cream and sponge fingers
Simple dishes are the best. This meal has to make everybody happy. As I was child, I loved it – with blueberries, strawberries or raspberries. We had fruit in the garden and we picked them with my younger brother in the typical children's way…one bit into mouth and second into cup. My mom always had at least a bit of cream at home to reward us with smooth fruit cup. You can serve with sponge fingers, chopped nuts (pistachios, hazelnuts or almonds) and garnish with fresh mint or melissa.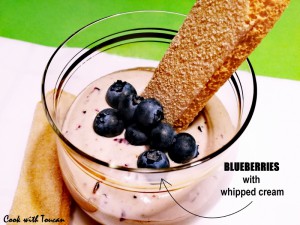 Ingredients for 2 servings:
fresh blueberries (100 g = 1 cup)
whipping cream (200 g = 1/2 and 1/3 cups)

it is necessary to use at least 31% cream

icing sugar (to taste)
sponge fingers
Preparation:
whip whipping cream in electric blender or with hand blender
put some blueberries aside to garnish

squash the rest with fork

add icing sugar to taste
blend squashed blueberries with whipped cream (Tips ↓1)
add more icing sugar to your taste (Tips ↓2)
put sponge fingers into glass and pour whipped cream with blueberries (Tips ↓3)

or pour only whipped cream with blueberries into glass and then scoop up this mixture with sponge fingers during eating (the sponges stay crunchy)

garnish with rest of blueberries
you can garnish the dish with fresh mint or melissa
---
Tips:
Blend blueberries with whipped cream by hand (no device, do it for example with spoon). If you will do it with electric blender, the mixture will not so smooth.

You can add some chopped nuts (pistachios, hazelnuts, walnuts or almonds) into mixture at this moment.

If you choose this way, leave the mixture to rest for at least 20 minutes to be sponge fingers soft. But no more, otherwise whipped cream will lose its volume.
Comments
Overview of comments