---
2018-03-15
Baked camembert with poached egg and onion
I always belonged to people who don't like hot Camembert (neither fried nor baked). But probably because everybody cooked it only with spices and herbs for me, the vegetables were missing. I thought about, how to make it better and tasty, because baked Camembert belongs to favourite dishes in Czech (in my family and among friends too). You can prepare it on the grill after you pack it into foil too. And I have to say, after the first taste, this dish immediately ranked among my most favourite dishes. Sautéed onion adds sweet taste to the dish, rocket (arugula) salad the spicy taste and poached egg connects all ingredients together. Amazing dish!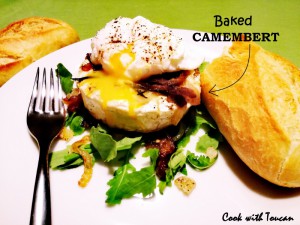 Ingredients for 2 servings:
cheese Camembert (2 pcs)

weight of each approx. 100 to 120 g = 3,5 to 4,2 oz.

with sharp knife make several cuts into each cheese

make cuts into maximum depth 2 – 3 mm (0,08 – 0,12 in.) (Tips ↓1)

salt and ground pepper (to taste)
garlic (2 cloves)

peel, chop into coarse pieces

rosemary (1 twig)
whole egg (2 pcs)

at first crack one egg into bowl

after you boil it, crack the second egg

water (approx. 2 l = 3,5 pt. UK = 8 cups)
vinegar (2 tbsp.)
cold water (approx. 500 ml = 0,9 pt. UK = 2 cups)
medium red onion (2 pcs)

peel, cut into halves

each half cut into strips

medium yellow onion (1 pc)

peel, cut into halves

each half cut into strips

oil (4 – 5 tbsp.)
rocket (arugula) salad (2 handfuls)
salt and ground pepper (to taste)

to season the poached eggs
Preparation:
at first prepare poached eggs

pour water (2 l) with vinegar into big pot and bring to boil

when the water is boiling, make whirlpool with wooden spoon

put one cracked egg into and time 3 minutes

when egg is in the water, stir no more!

after 3 minutes remove egg and move it into bowl with cold water (Tips ↓2)
repeat with the second egg (Tips ↓3)
heat oil (4 – 5 tbsp.) in the pan and sauté all onions (Tips ↓4)

when onions are golden, move them to a plate
put each cheese on the aluminium foil (size approx. 20 x 20 cm = 7,5 x 7,5 in.)
salt and pepper
put one clove of garlic on each cheese

there is left oil in the pan after onion sautéing

pour this oil on cheeses (1 tsp. of oil on the top of each cheese)

put one half of rosemary on each cheese

pack both cheeses into foil

bake in preheated oven at 180°C (= 356 °F) for 20 minutes (the cheese is warm inside after 10 minutes, but it still not runny) (Tips ↓5)
now you have to work quickly

put rocket salad on the plate

lay baked cheese on the salad (remove rosemary from cheese)

sprinkle with sautéed onion

lay poached egg on the top of cheese (let it drain before serving)

salt and pepper

serve warm with fresh baguettes

you can sprinkle with chopped fresh chilli peppers
---
Tips:
If you make deeper cuts into cheese, it can spill during baking (already after 10 minutes).

Don't cook the egg more than 3 minutes. The yolk has to stay liquid. Be careful with handling egg, so yolk doesn't break.

If you are not sure you can manage, do it different way. When the water starts to boil, put one cracked egg into ladle and immerse. After egg begin to be white, move it to water and time 3 minutes.

If you use larger onions, add more oil. Onions have to sauté in sufficient volume of oil, not burn.

If you will bake the cheeses more minutes, it is possible that they spill. But it is not taste problem, visual only.
Comments
Overview of comments