---
2018-05-01
Fried rice with eggs and vegetables
When I cook roasted chicken with rice, some rice always remains. It happened several times I had to dispose quite a lot of rice. Nobody wanted to eat it without juice from meat. So I thought about, how I could use the rice to don't have to dispose it. On the Internet I found lots of photos of fried rice. It was good idea how to use it. Here you have recipe, which I prepared from rest of rice. I like taste of this dish very much. You can serve it as side dish to roasted chicken too.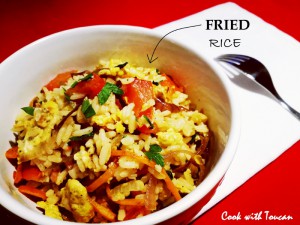 Ingredients for 2 servings:
medium carrot (1 pc)

peel and cut into strips (length approx. 5 cm = 2 in.)

medium red onion (1 pc)

peel, cut into halves

each half cut into strips

small tomatoes (2 pcs)

each tomato cut into halves, cut out a stem

each half cut into wedges, remove the pulp into a bowl

cut wedges into big cubes

oil (2 tbsp.)
salt and ground pepper (to taste)
medium yellow onion (1 pc)

peel, cut into cubes (size approx. 1 cm = 0,4 in.)

garlic (2 cloves)

peel, chop into coarse pieces

oil (3 tbsp.)
whole egg (3 pcs)

crack them into small bowl

break yolks in bowl with a fork

boiled and cooled rice (200 g = 7 oz.)
salt and ground pepper (to taste)

to season the eggs and rice

unsalted butter (2 tbsp.)
fresh parsley (1 handful)
Preparation:
in the pan heat oil (2 tbsp.) and sauté carrot
when carrot begins to be softer, add red onion

cook until both are golden brown

add tomatoes (the tomato pulp not yet)

sauté 3 to 5 minutes

salt and pepper

move all vegetables aside from pan to a plate
in the same pan heat oil (3 tbsp.) and sauté yellow onion and garlic
when both become golden, add eggs

stir everything well and wait until eggs will be sautéed

add boiled rice
salt and pepper
add unsalted butter (2 tbsp.)
when everything is nice sautéed, move vegetables from plate to pan and add tomato pulp (Tips ↓1)
at last stir chopped fresh parsley into the dish
according to taste add salt and pepper
---
Tips:
If dish looks and tastes dry, add more butter.
Comments
Overview of comments