---
2019-04-14
Homemade spread butter with chives
Spread butter (we call "pomazankove maslo") is the typical Czech product. We often eat it with fresh bread (just as the unsalted butter). Spread this homemade spread butter on baguette, add ham and vegetables...and you have light dinner or snack. The spread butter is oftenest sold in natural version in the Czech Republic, but I love the version with chives or with ham (only homemade). The quality of spread butters is very different in shops – so the best choice is to make homemade. After you taste it for the first time, you never want to eat another again. I promise! :)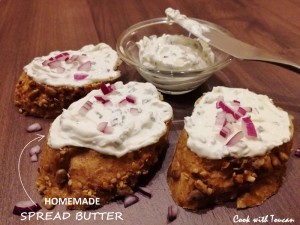 Ingredients for approx. 750 - 800 g (26 - 28 oz.) of spread butter:
soured cream (1000 g = 2,2 lb.)
cream (200 ml = 1/2 and 1/3 cups)
salt (1 1/2 tsp.) (Tips ↓1)
dried chopped chives (5 g = approx. 4 – 5 tsp.)
Preparation:
take big bowl

add soured cream, cream and salt

stir well

let it stand at room temperature for one hour (stir 2x – 3x during this time)

take another bowl (smaller) and put strainer on it

put white canvas into the strainer (ideally from cotton, the square – size approx. 40 cm = 16 in.)

the strainer mustn't touch the bottom of bowl

pour all mixture into the strainer with white canvas after one hour

(Picture below Tips – left ↓)

cover the mixture with the canvas corners

(Picture below Tips – right ↓)
put the bowl with mixture into the upper part of fridge

let it stand for approx. 24 – 36 hours here (don't stir it, don't control it – just ignore it) (Tips ↓2)
the spread butter is finished after the above mentioned time

you have "natural spread butter" now

you can move it into plastic closable big box/small boxes (better) and put into the fridge (the expiration date is approx. one week)
or you can create spread butter with chives

move natural spread butter from canvas into medium bowl and add dried chopped chives (I love this version)

stir well

now you can move spread butter into plastic closable big box/small boxes (better) (Tips ↓3)
serve with fresh crunchy bread or baguette

you can create another versions of spread butter too (Tips ↓4)
---
Tips:
The mixture has to be salty, but not much salty! It is important.

I leave the mixture to mature in the fridge for approx. 30 – 36 hours. The spread butter is creamier and thicker. After 24 hours is the butter thinner, but it is easy to spread it. You alone have to test, what is better for you. But I recommend leaving the mixture to mature for at least 30 hours.

Dried chopped chives have to absorb the liquid from mixture. So leave the spread butter to mature for approx. 30 minutes after stirring. Then you can eat it.

Ham spread butter – put 100 g (0,22 lb.) of stewed ham into the blender. Mix well. Then add 200 g (0,44 lb.) of natural spread butter. Mix well again. You have homemade ham spread butter. Or stir the natural spread butter with any other ingredients – e. g. dried garlic, chopped dried herbs or chopped dried chilli pepper. Remember – stir the natural spread butter only with dried ingredients! Otherwise the expiration date is not a week, but at the maximum 3 days!
Comments
Overview of comments