---
2019-01-12
Skewer with pork livers and onion
I think that the dish from pork livers is very controversial. Not everybody likes offal. On the other hand, this is one of the typical Czech dishes. You will love it or hate it. I belong to people who like this dish. But you have to cook it right – you mustn't salt the livers before cooking, you have to sauté them at medium temperature and the livers mustn't be raw during serving. If you do it right, you can expect perfect taste experience.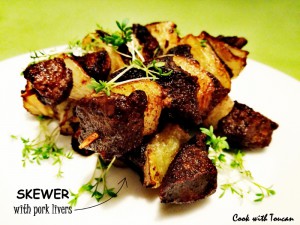 Ingredients for 4 servings:
pork livers (approx. 750 g = 1,7 lb.)

wash, cut out all membranes and unsightly pieces

cut into cubes (size approx. 3 cm = 1,2 in.)

small yellow onion (6 pcs – maybe more, as necessary)

peel, cut into the same pieces

you can see in the picture below how to do it (Tips ↓1)

wooden skewer (30 cm = 12 in., approx. 7 pcs)

break in half, make a tip at one end

oil (as necessary)

it has to be at least 1 cm (0,4 in.) in the pan

salt and ground pepper (to taste)
Preparation:
take wooden skewer
skewer alternately one cube of liver and one piece of onion

if some onion remains, you can create skewer with only onion pieces (it is better situation, than if some livers remain)

skewer until any livers remain
heat oil (you have to do it at medium temperature, otherwise the livers will be burned from outside and row inside)

there has to be at least 1 cm (0,4 in.) of oil in the pan

sauté all skewers with pork livers and onion (Tips ↓2)
the livers are done, when they are nice sautéed, but not raw (if you stab them with fork, you mustn't see any blood) (Tips ↓3)
salt and pepper before serving (to taste) (Tips ↓4)

you can garnish with fresh cress or chopped parsley

serve with tartar sauce and boiled potatoes
---
Tips:
Cut onion into halves

(Picture 1)

. Remove onion heart from every half – there has to stay at least 4 layers in the rest of onion

(Picture 2)

. Cut this bigger part into halves

(Picture 3)

– you have wedges

(Picture 4)

. Divide every wedge into halves – you must have at least 2 layers in every part

(Picture 5 and 6)

. The onion is cut into the same parts now. Use not only small wedges, but the removed hearts too during skewering.

Use a pan, not an electric fryer. The oil will be dirty. Livers sautéing is a dirty work.

Very important! For the livers to be safe, you mustn't serve them raw.

If you salt livers before cooking, they will be tough and won't be tasty.
Comments
Overview of comments