---
2019-02-09
Smoked pork soup with hulled barley
It is simple soup, which fills you up. I love it, my mom doesn't like it. Why? She is not able to answer me. The smoked meat flavor beautifully the soup and the hulled barley makes the soup hearty. Try to cook it and make your own opinion. This soup belongs to typical Czech soups.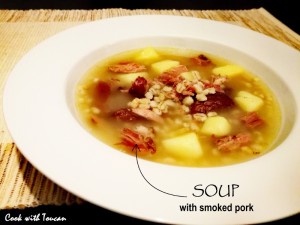 Ingredients for approx. 4 to 6 servings:
smoked pork ribs (approx. 500 g = 1,1 lb.) (Tips ↓1)

wash and cut into smaller pieces

salt (2 pinches)
ground pepper (2 pinches)
bay leaves (2 pcs)
allspice (2 balls)
cold water (2,5 l = 4,4 pt. UK = 10 1/2 cups)
hulled barley (approx. 2 handfuls)

put into strainer and wash with water

medium potato (2 pcs)

peel and cut into cubes (approx. 1,5 cm = 0,6 in.)
Preparation:
put smoked pork ribs into big pot
add salt (Tips ↓2), ground pepper, bay leaves and allspices
pour cold water (Tips ↓3)

when it starts boiling, turn temperature down (but you have to see bubbles all the time)
when the meat is almost soft (it is not quite soft, it takes approx. 60 minutes), add hulled barley into soup (Tips ↓4)

when the meat is soft (after approx. 90 minutes), remove them from soup and let them cool down
remove meat from bones and cut them into smaller pieces

when the hulled barley is almost soft (after approx. 30 minutes of cooking, it is possible to chew it, but it is not quite soft), add potatoes into soup

now add the pieces of meat too
when the potatoes are soft (after approx. 20 minutes), remove bay leaves and balls of allspices from soup

add salt to taste

serve warm
---
Tips:
You can use any smoked meat to this soup, which is without rub and glaze. But smoked meat with bones is the better choice.

Add really only 2 pinches into soup. Smoked meat is very salted. You add salt

to taste

into soup at the end of cooking.

In principle, for perfect broth, use cold water with meat (because juices from meat are released out). For perfect meat (you need it to another recipe and broth is secondary dish), use hot water (because hot water locks juices inside of meat).

You can think that I used small volume of hulled barley. But hulled barley increases the volume during cooking. And if you want more transparent soup, boil the hulled barley in the salted water in small pot. When it is soft, strain it. Move it into pot with soup during final seasoning with salt.
Comments
Overview of comments