---
2019-12-29
Pork collar marinated in red wine with cranberries
My friend told me one time, that I probably can cook only this dish, because I cook it too often. But the true is...it is not possible to resist this marinated pork collar, because it is amazing! The meat is juicy, tender and full of flavours...and together with fresh arugula salad and red wine sauce with cranberries is absolutely irresistible! I usually put the meat marinate on Thursday evening and grill during Saturday. It is possible to marinate the meat for only one night (if you have quality meat). And you don't have to grill the meat...you can sauté it on a pan. But the meat gets the next flavour due to grilling, so I prefer grilling. P.S. My friend never refuse inviting for this dish :D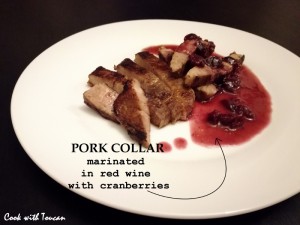 Ingredients for approx. 10 – 11 servings:
pork collar without bone (approx. 2,4 kg = 5,3 lb.) (Tips ↓1)

cut into slices (width approx. 2 cm = 0,78 in.)

salt and ground pepper (on meat, to taste)
red wine (700 ml = 1,23 pt. UK = 2 3/4 cups)

I use Cabernet Sauvignon or Merlot

2 big bay leaves
dried cranberries (100 g = 0,22 lb.)

big cranberries chop coarsely, small cranberries leave whole

sugar (2 – 3 tbsp., to taste)

I used 2 tbsp. and it was sweet enough
oil (3 tbsp.)
unsalted butter (90 to 100 g = 0,2 to 0,22 lb., to taste)

cut into cubes (size approx. 0,78 in.)

fresh arugula (rocket) salad (to taste)

it is not necessary to use it, but I like it
Preparation:
ONE OR TWO DAYS BEFORE GRILLING
at first prepare marinade (you will use it to meat marinating) and sauce (you will pour it on grilled pork collar)

put small pot on the stove

pour red wine and add bay leaves

bring to boil

when it starts boiling, turn temperature down (boil at medium temperature)

add cranberries
add sugar to taste (add spoon by spoon – taste after each spoon)

boil for 25 minutes
remove pot aside from stove

pour off approx. 1/4 into different small pot

leave approx. 3/4 in the original pot and boil for another 10 minutes (then remove aside from stove and allow to cool)
add oil (3 tbsp.) into 1/4 of mixture and stir well (you prepared marinade)
add salt and pepper (to taste) on cut pork collar
when marinade is cold, spread meat with marinade (Tips ↓2)

put it in the fridge
when 3/4 of mixture are lukewarm, add unsalted butter and stir well

you prepared sauce for grilled/sautéed pork collar

put in the fridge too
ON THE DAY OF GRILLING
remove the meat from fridge approx. one hour before grilling (it mustn't be cold)

grill pork collar

while the meat is grilled, warm the sauce (the sauce has to be warm, but it mustn't boil)
serve warm

serving tip: put fresh arugula salad on the plate, then lay grilled/sautéed pork collar, at last pour red wine sauce with cranberries (Tips ↓3)

serve with fresh crispy baguette
---
Tips:
I don't use bigger pork collar than 2,6 kg (5,7 lb). It is from big pig and meat can be tougher.

Don't use wide and long plastic box. Spread every slice with marinade and put into box.

Red wine sauce with cranberries fits perfect to every grilled or sautéed meat. You can prepare it without having to cook it together with marinade. Recipe for this sauce you can find here:

link Sweet red wine sauce with cranberries

.
Comments
Overview of comments